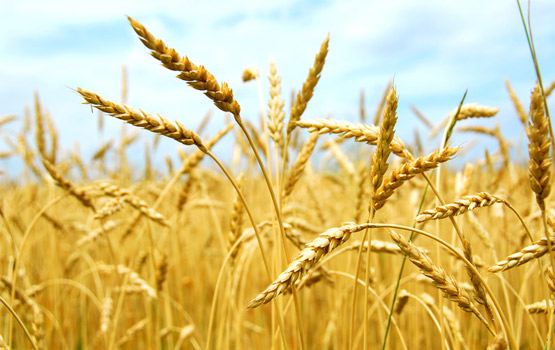 GRAIN FED
PASTURE FED
John Dee is an Australian Family owned beef company that was established in 1939 and has been owned and run by the Hart's for 4 generations. Before the conception of John Dee, the founder Frank P. Hart had worked as an engineer in Sydney before moving on after the great depression to own a number of small butcher shops in and around Brisbane with the aid of one of his sons Barry. As the business expanded and supply issues grew, John Dee was inaugurated, and they set out to be able service their own stores with a consistent distribution of product. Strategic thinking was needed and eventually an opportunity provided itself by subsequently purchasing a small bacon smoke house Warwick, Queensland. Before the days of large cattle moving trucks, it was considered an ideal position being set next to a railway to unload animals from around the country, plus being located only 180km west of Brisbane to deliver direct to stores. In the early to mid-1940s the sons Frank G. Hart and his brother Robert moved from Sydney to Warwick to take on this project, and over the next 80 years, with family dedication and eye for detail, it has been transformed into a well-respected producer of fine quality beef products.
This family company has grown and evolved with the demands of the market in many ways, but mostly specialising in grain fed beef. In 1983 this grain fed production line began out of a small feedlot in Freestone near Warwick, and with Frank D. Hart's guidance and management, in addition to the early days of travelling to and from Japan, has developed valuable relationships and networking opportunities in the ever-expanding market in Japan. With this experience, his forward thinking was predominant in how John Dee developed and refined beef specifications for the Japanese market and beyond. With this strong foundation and constant drive for quality, John Dee became a leader in the industry of beef production and exportation.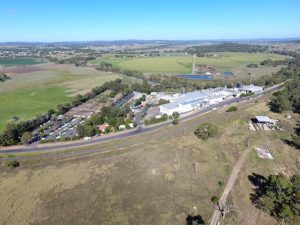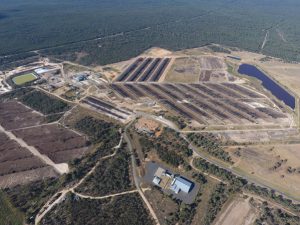 In 1990 the company expanded further by building a new feedlot in Inglewood that now caters to international demands with a maximum capacity of 25,000 head of cattle. Specially selected feeder cattle are purchased directly from the farmers and are tended to by trained and experienced feedlot staff. With professionalism, these cattle are carefully fed specially designed and unique blends of different grains and sustenance over the course of 80, 100, 150, or 400 days according to John Dee requirements and guidelines. Most importantly however, animal welfare is paramount with all cattle being kept in clean shaded pens, with safe drinking water and constant close human interaction, creating the best possible stress-free environment.
With nearly 40 years of experience in the Japanese market, the responsibility and experience is what you can taste and see in the quality beef that John Dee produces. From the heart, from the Hart's, from Harnet, a long-standing family bond of excellence unknown in any other beef business out of Australia. Upmost care from farm to plate with an efficient, consistently safe, and thus respected producer of fine food. John Dee, a Heritage of Fine Beef.

HISTORY
The Greenham family took over the Smithton abattoir in 2001 and soon realized the quality of beef in Tasmania, particularly the North-West, was outstanding. Whilst the locals had known for decades that their grass-fed beef was special, it was the combination of a forward thinking processor, great cattle farmers, an ideal climate, knowledge and desire to create a great product that culminated in the launch of Cape Grim Beef in 2007. From humble beginnings, the brand has grown to include established loyal customers throughout Australia and internationally in Japan, Korea, Thailand, China, Singapore, Hong Kong, Nepal, South Africa, Seychelles, Maldives and the USA.
Greenham Tasmania is part of a sixth-generation meat processing business that began life in the 1860s as HW Greenham & Sons. For a time Greenham operated the Melbourne City Abattoirs; these days they pride themselves on over the hooks trading with local growers, where cattle are sold directly to the processor and feedback on carcass grading is used continually improve beef cattle production.
Greenham's work with the Cape Grim brand is credited with reviving cattle farming in the Tasmanian North-West through their Smithton plant and they also process the Robbins Island Wagyu brand in association with the Hammond Family.
CAPE GRIM – THE PLACE
Tasmania is renowned for its pristine wilderness, but you might not know it's home to the purest air on earth. In the North-Western corner of Tasmania 40° 41′ South, those world-famous Roaring Forties whip away any trace of pollution as they blow across the Southern Ocean. Combined with low levels of development and its sheer distance from other land landmasses, Cape Grim's air quality is pretty unique – and the local baseline air pollution station readings prove it.
As the Bureau of Meteorology and CSIRO staff whom monitor the station can tell you, air quality comes down to carbon particles and the particle count at Cape Grim is unbelievably low. While the average cubic centimetre of air contains 5000 to 500,000 particles, Cape Grim boasts a meagre 10 to 600. The station is one of 25 in the world and the only one in Australia. Samples of the atmosphere from Cape Grim were first taken over 20 years ago and are sent all over the globe for scientific use as THE benchmark for air quality.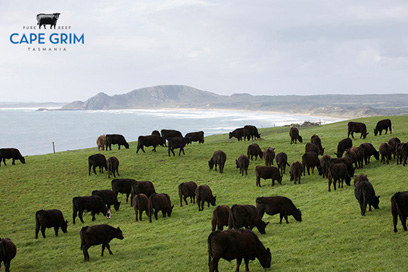 WHY IS CAPE GRIM BEEF SO DIFFERENT?
Crystal clear air isn't the only thing Cape Grim has going for it, though: rain quality hangs on air quality, so the rain is the world's purest too. Given that it rains at Cape Grim for 187 days a year on average (approx. 800-1,000mm) the pasture there makes for perfect grazing land. So it's hardly surprising that the British breeds of Cape Grim Beef, lungs full of clean air and bellies busy digesting the superior pastures on offer, have earned themselves a reputation for providing premium-grade beef, sought after by butchers and chefs who have built their careers on choosing the best produce and letting it speak for itself.
Cape Grim Beef is guaranteed to be tender, juicy and of the highest eating quality. Compared to other beef products, you should find it to have a rich and full flavour – reflecting the grass-only diet of the cattle.
As required by Tasmanian law, it is completely free of hormone growth promotants.
Cape Grim Beef is:
⦁ 100% Grass Fed
⦁ Certified Humane
⦁ Has no added hormones
⦁ Antibiotic free
⦁ GMO free
⦁ British breed cattle only
⦁ Graded to four & five star MSA tenderness grades
⦁ Naturally marbled for maximum juiciness & flavour
CAPE GRIM BEEF FARMERS
We are very proud of the select group of farmers that supply us with the cattle used for Cape Grim Beef. It is a key group of close to 1,500 beef farmers, mostly based in the North West of Tasmania, King Island & Flinders Island. They are required to meet stringent quality and processing standards set by Meat Standards Australia and supply cattle exclusively to Greenham.
Producers are selected on cattle breeding and genetic pointers which deliver the most consistent of eating quality. Their farms are located in the highest rainfall areas of Tasmania, delivering the highest and most consistent fodder growth available. Driving around Tasmania, visitors will see Cape Grim signs on farm gates – a reflection of the pride that producers have in supplying a superior brand.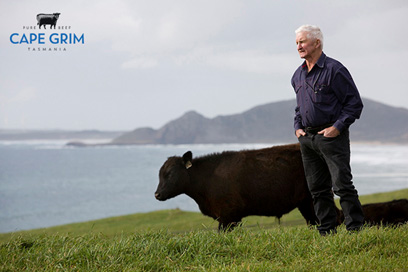 The use of hormones, genetically modified organisms (GMOs) and antibiotics are not permitted in Tasmanian beef farming. Producers understand that consumers can instantly connect the marketing advantages of Tasmania's pristine environment alongside sustainable farming practices and ideal grazing conditions, enhancing the state's reputation as a world leader in successful local food systems.
Our farmers have known for decades that their grass fed beef is special, but now they participate in the network from producer to processor to chef to diner.  We are very pleased that we can provide this high quality, tender beef to discerning global consumers – it will change the way people think about the beef they eat and where it comes from.
Macdonald Meat Co, not to be confused with the world-wide burger chain, is an iconic processing plant in Tacoma, Seattle. Through the Western areas of Washington State, Mac Meat quality products have been supplying not only meat items, but also have a close relationship to the Alaskan Fishing industry. The company history goes back all the way to its establishment in 1933, and from 1984 extended into the international market.
Their strengths are all about custom processing for clients. With all types of meat cuts, with specialist trimming and custom packaging, they built over the years a solid reputation. Part of this supremacy is their understanding and relationship to the market and meat packers throughout the USA. Constantly updated with daily information on market information and movements keep their heads in the game to provide the customers with best possible pricing.
MacMeats is licensed as an exporter of CAB (certified Angus Beef), which on top of that have a number of programs covered to be approved by the USDA review requirements. Whether they are ARC (Audit, Review, Compliance) or EV (Export Verification), they have extensive and accurate track and trace programs. This and bi-annual site audits made by ARC are all in order to maintain export regulations for multiple countries around the world.